Does Your Computer Have a Virus?
Is your computer running slowly or not the same as it normally does? Does it ever start up or does it just stop at the startup screen? Don't overlook this as just "a glitch" that you can worry about later because there's usually an underlying factor causing the issues. During these times of uncertainty, you need to be aware of how dangerous the Internet really is. Having a computer, laptop or desktop PC without proper antivirus AND malware protection for even one day could be a disaster. Your entire system could crash and never start again without having to deal with expensive computer repair services, or even worse, Data Recovery Services if necessary.
It is often very difficult for a user to know if they are infected.
It takes a skilled Computer Virus and Malware Removal Professional to effectively remove Viruses, Malware and Spyware to ultimately restore your computer(s) to normal operating levels, without losing precious data, pictures or email.
Capturing a Virus Early Is Critical
The reality is that viruses tend to do their damage well before the user even knows it by running in the background and accumulating all of your personal information. Often times the information illegally collected from your computer is sent via your own email to its own "Host". Often times the "Host" is located outside the U.S. so it's much easier to sell your personal information over the Internet. If the Virus, Malware or Spyware has already replicated itself throughout your entire system files and Registry,
a Montgomery Texas Computer Repair technician will make a judgment call and if necessary, safely backup all of your data, pictures, emails and any other personal files that you may have to an external hard drive before performing a destructive recovery on your computer.
It sounds much worse than it is. This will ensure that all virus and subsequent damage are taken care of before all of your files are cleaned and placed back onto your computer as they were.
Protect Other Computers On Your Local Network
If a computer network is involved, including a server, Montgomery Texas Computer Repair will scour the entire system to ensure that all underlying files created by the virus are effectively removed. The computer network and servers will then be reloaded and restored to optimal operating levels only if necessary. Montgomery Texas Computer Repair will NOT perform unnecessary work that is not needed, ever.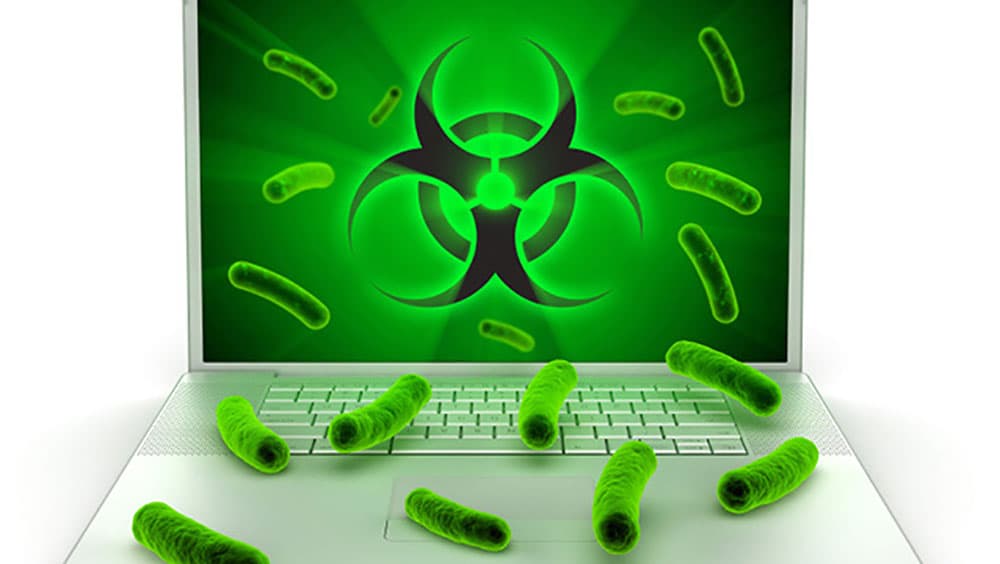 Be Aware of the Most Common Cyber Threats
Unfortunately, the Internet world is loaded with all kinds of Viruses and Malware. As we previously mentioned, some of them are designed to steal your valuable personal information while others were created to do damage to your computers. The most common threat today is
Ransomware
, which is designed to hold the user hostage by locking up their entire computer until a ransom is paid. Montgomery Texas Computer Repair is well trained and experienced in this arena of Specialized Viral and Malware Detection and Removal, so call us first today! There are a number of types of malware to be aware of. They include but are not limited to the following:
What To Do If You Have a Virus
If you suspect that the computer in your home or business has been infected,
immediately make a call to Montgomery Texas Computer Repair today at 936-788-8412
so that we can immediately discuss your issues and find the best resolution that fits your exact needs. We will dispatch a skilled and qualified technician to remove all of the Viruses, Malware, Spyware etc. and restore the entire system. Plus, we will install proper anti-virus protection to help prevent issues down the road.
Virus Prevention Tips
Here are some important tips that we offer our clients to keep them safe from being attacked by a virus:
Make sure that your network and each individual computer has proper anti-virus software
Take the time to make sure any wireless networks are secure
Never open e-mails from unknown sources, even your most trusted sources can unknowingly send you a virus
Use only well known Internet browsers like Mozilla Firefox or Chrome
Never click on advertisements, error messages or links that show up in pop-up windows
Always keep the anti-virus software on your computer up to date
Never download software from websites that you are not familiar with or know
Set up an anti-virus maintenance program with your IT support
Contact Us Today
Never take a virus infection lightly. Let the Virus, Malware, Removal and Cleanup Specialists at Montgomery Texas Computer Repair professionally take care of it and get your computers running normally again. We focus on Montgomery County, TX and surrounding cities such as The Woodlands, Spring, Tomball, Willis, Conroe, Huntsville and all other surrounding areas.
To get more information on the Virus Removal, Malware Removal and Cleanup services offered by Montgomery Texas Computer Repair, call us today at
936-788-8412
.
CALL OR TEXT US TODAY FOR AN IMMEDIATE REPLY
(936) 788-8412